HIGH PERFORMANCE LED DRIVING LIGHTS
High-performance Automotive Lighting for Sale
Great vehicle lighting is not a luxury but a safety essential. Factory-made headlights may have enough illumination power for trucks and cars traversing streets lit by public lighting. But what if you need more lumen output to follow unlit roads or equip your warehouse forklifts for indoor jobs? Automotive lighting designed, created, and put together by ChiMing can be a perfect way out.
We are open to bezel-less technology to create LED units that can replace your current vehicle lighting or add performance as extra fixtures. We design and manufacture lights from the ground up to provide you with the most innovative, reliable, and affordable products to be installed on off-road trucks, motorcycles, forklifts, and other vehicles.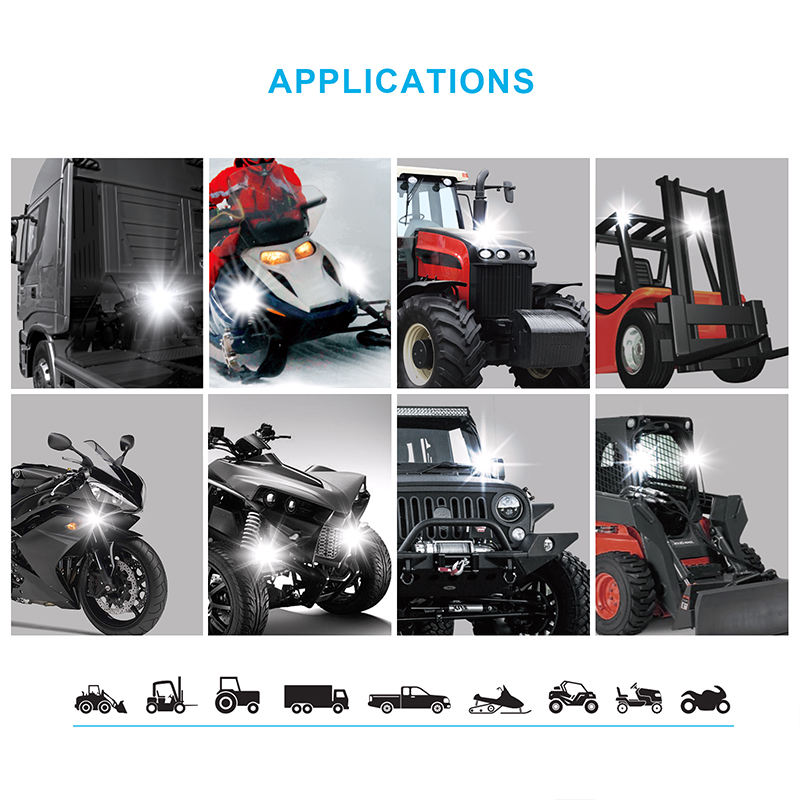 The Automotive Lighting Manufacturer that Combines Factory-Level Reliability and OEM Customizability
ChiMing lights are packed with OSRAM LED chips, comply with IP67/69K water and dustproof standards, and have an up-to-date design that fits any vehicle. But when it comes to specific requirements, you can go beyond our factory-built features. We can do an OEM service for performance headlights and non-standard automotive lighting. The OEM service is available for:
Work lamp
Light bars
Driving lights
Forklift lights
Headlights
Contact us to discuss what you want to add to your lighting. Our MOQ requirement is intentionally minimized to empower small businesses to get their custom vehicle lighting. Every project is unique to us, so the delivery time and the nitty-gritty of your orders are matters to negotiate.
Choose Now from Our Automotive Lighting Shop
In a hurry? Jump to the main categories of ChiMing products to explore our lights in more detail. You can also watch our introduction videos to see them in action and compare features. As an automotive lighting company turned shop, ChiMing brings everything online to make your inquiries more informed.
OEM INQUIRY
OEM as one of our most important product line ,With 10 professional and experienced engineers , We keep moving on new product development every month, at least 2 items projects . Welcome to contact with us to work together , turn your idea to a real product .
integrity, innovation, dedication, tolerance
Since 2009, A domestic manufacturer focusing on automotive lighting, set up a factory in Guangzhou. After continuous business development, research and innovation, now we have become one of the leaders in the automotive industry. In the future, we will continue to develop and innovate and go future.
We always believe that quality is the only way to go further
FOLLOW US
WHERE IT HAPPENS
Feel free to follow us on our social media channel. Then you can be sure to be the first to receive news and activities.