LED light bars have become quite popular in automotive lighting due to their many valuable applications. LED light bars are a robust and dependable option for anyone wishing to improve their vehicle's lighting, whether off-road enthusiasts, truck owners, or anyone else. Everything from the advantages and installation to maintenance and purchase considerations for LED light bars is covered in this detailed guide.
Advantages of Led light bar
There are many reasons why LED light bars are so popular among motorists. Key advantages include the following:
Increased Exposure
Improve your nighttime driving and off-roading security with the help of a bright and visible LED light bar. Their brilliant light helps brighten the road before you, making it easier to see potential risks like animals crossing the street or other impediments.
Using Less Energy
LED light bars are more efficient in power consumption than conventional halogen or HID bulbs. They provide excellent lighting while using less electricity, which is great for your car's electrical system. Due to this energy efficiency, the battery will last longer, and less gas will be used.
Resilience and age-resistance
LED light bars are constructed to survive severe weather and other extreme circumstances, making them perfect for use in difficult situations. Their durability and dependability are guaranteed even in the harshest environments, thanks to their resistance to shock, vibrations, and extreme temperatures.
Adaptability
LED light bars are adaptable regarding where they may be placed and what they can be used for. Different sizes, shapes, and beam patterns are available to tailor the illumination to your needs. There is a spot beam LED light bar for pinpoint illumination and a flood beam LED light bar for broader coverage.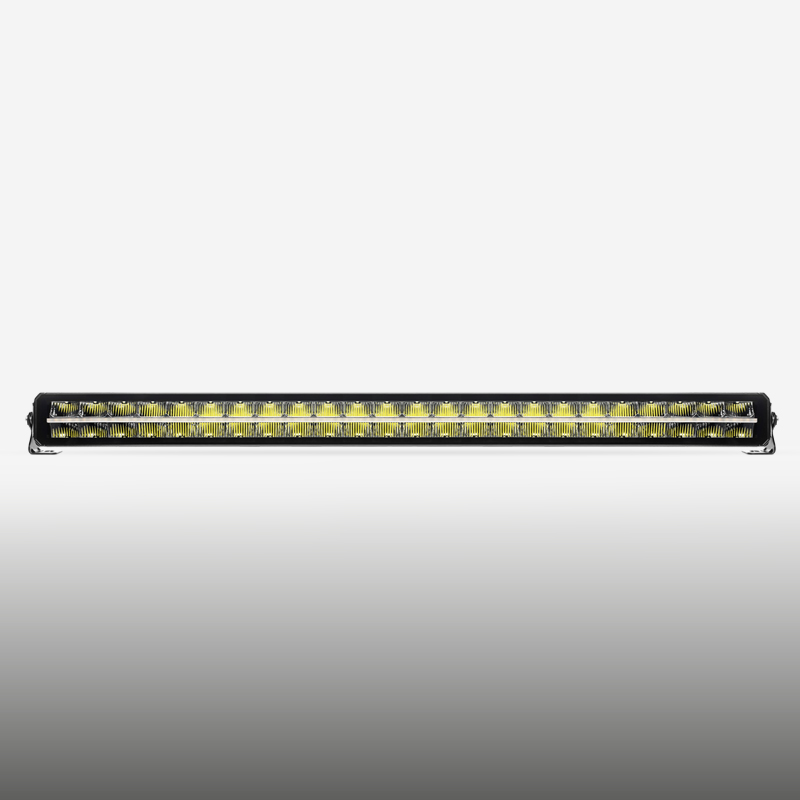 LED Light Bar Maintenance
If you want your LED light bar to function correctly and last as long as possible, consider the following preventative measures:
Regular maintenance is wiping the light bar with a damp cloth or brushing away any accumulated dust, grime, or debris. This will keep it clean and shiny for a more extended period.
The wiring should be inspected regularly for damage or wear on the connections. Check for corrosion and make sure all links are tight.
The LED light bar can be protected from damage caused by scratches, impacts, and elements by using a protective cover or lens guard.
If your LED light bar isn't watertight already, you can make it more resistant to water and moisture by sealing the edges and seams with silicone.
Buying Cosiderations
Consider these things before buying an LED light bar for your car:
Pick a light bar whose size suits your car and your design. Consider where you'd like to put it and what aesthetic you prefer.
Choose between a spot beam, a flood beam, or a mix of the two for your illumination needs. This is dependent on your driving conditions and the intended function.
Choose LED light bars from well-known manufacturers whose products have a solid reputation for quality and longevity. Ensure you're buying a quality item by checking out reviews and getting suggestions from others.
Legal and Regulatory Considerations Research your area's supplemental lighting rules and regulations. If you want to avoid trouble with the law, you must be sure the LED light bar you buy satisfies all constraints.
Conclusion
Improved visibility, energy economy, durability, and adaptability are just some of the benefits that LED light bars bring to the table. You may find the best-LED light bar for your demands and driving style from Chiming Autos by paying attention to the essential purchase considerations and following the installation and maintenance advice in this article. Invest in better car lights today to travel further and explore more freely.
Keep in mind that the success and endurance of your LED light bars depend on their quality and installation. Spend your money wisely and reap the rewards of cutting-edge vehicular lighting innovation.